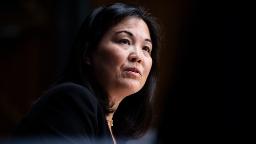 CNN
 — 

The Congressional Asian Pacific American Caucus is throwing its support behind Julie Su, the deputy Labor secretary, to replace Labor Secretary Marty Walsh who is soon departing the Biden administration – a significant public display of support for an Asian American to join President Joe Biden's Cabinet.
"We remain troubled that the Administration has no Secretary-level AANHPI official serving in the Cabinet, the first time we have not had representation at this level since 2000," CAPAC said in a statement shared with CNN. "President Biden has the opportunity to better realize the 'most diverse Cabinet in history' with the elevation of Deputy Secretary Su. CAPAC urges him to seize that opportunity by nominating Julie Su as our next Secretary of Labor."
US Trade Representative Katherine Tai, whose parents emigrated from Taiwan, is the only Asian-American woman who is currently in a Cabinet-level position under Biden.
Walsh is expected to depart the Biden administration soon, according to two people familiar with the matter, marking the first Cabinet secretary departure of Biden's presidency. Walsh has been offered a job heading the National Hockey League Players' Association, the people said. His departure has not been officially announced.
CAPAC's endorsement of Su to be the next Labor secretary is part of a broader effort in recent years by Asian-American lawmakers to push the Biden White House to appoint more people of Asian backgrounds to high-ranking positions within the administration.
Early on in the Biden administration, Sens. Tammy Duckworth and Mazie Hirono threatened to vote against Biden's nominees who weren't minorities, as they expressed their displeasure at the lack of Asian Americans in the Cabinet. Duckworth went as far as to say that the White House's attempts to address her concerns about AAPI representation were "insulting."
"To be told that you have Kamala Harris, we are very proud of her, you don't need anybody else, is insulting," Duckworth said, adding she had been told that "multiple times" by the White House.
The White House ultimately agreed to add a senior Asian American and Pacific Islander liaison, and the two senators dropped their threat.
Rep. Pramila Jayapal, a Democrat from Washington and a member of CAPAC, told CNN on Wednesday that choosing Su to replace Walsh would "fill a gaping hole in the lack of AAPIs at the Cabinet secretary level," and that she had recently "weighed in personally" on the matter.
"Julie is someone who knows how to navigate the DOL. She will ensure that DOL is doing all it can to support and advance workers wages, rights, and benefits on the job," Jayapal added.
CNN.com – RSS Channel – US