3 Nourishing Trinidadian Recipes from Nutritionist Maya Feller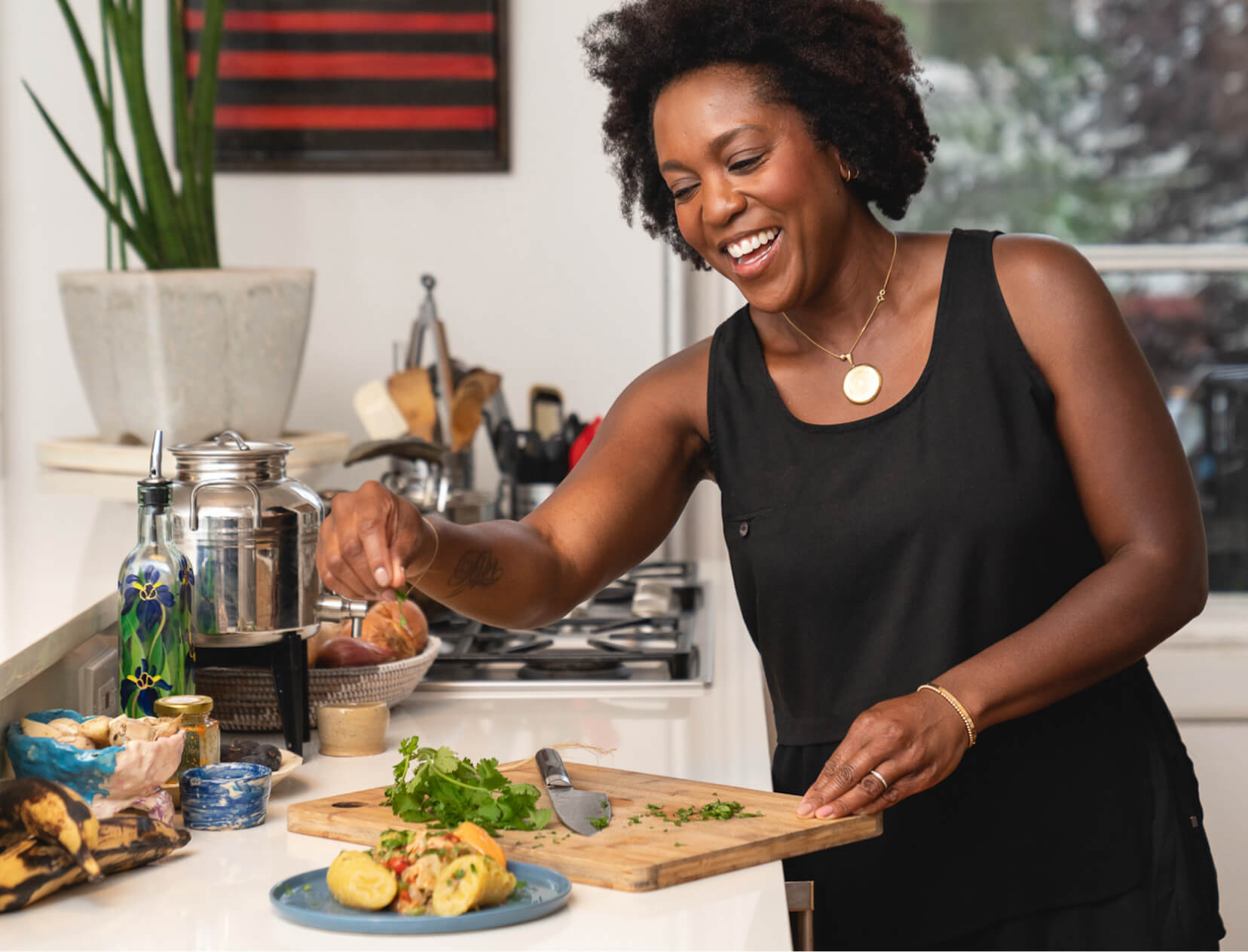 Working with registered dietitian Maya Feller is a revelation: She's practical but not prescriptive. Her advice about healthy eating is always nonjudgmental—she really listens, especially about the foods you have always loved, the flavors that bring you joy, and the dishes you cannot imagine a life without. And she's able to translate those deeply personal affinities into nutritional habits that—over time—have the power to change your life.
In her new cookbook from goop Press, Eating from Our Roots, Feller shares nourishing recipes from cultures around the world, including North and West Africa, the Middle East, Thailand, Brazil, and Trinidad and Tobago, where she often visited family as a child.
Some of her fondest memories there, she says, are tied to food: her five-year-old self leisurely sucking on sugarcane beneath the warm, beaming sun with her grandfather, and her frequent trips to Toco to visit her aunties and uncles, during which she would anticipate eating coconut bake—a quick bread—and other enduring dishes her family often made, a few of which she shares here.
3 RECIPES FROM EATING FROM OUR ROOTS

"Hands down one of my favorite breakfasts, especially with bake, a quick bread also known as johnnycake. It reminds me of my Tante Vio's visits—filled with codfish and bake, singing, and hairstyling. It was pure love."

"During my early-childhood years, I lived in Trinidad with my grandparents while my mom finished her doctorate. Callaloo reminds me of my granny's cooking. Everyone called her Doro (short for Doris)."

"My grandad would regularly drive me to the countryside to visit my grandmother's sisters. Fresh bake was always waiting for us—warm, sweet, and perfect with butter or codfish and zaboca (avocado)."

---
We hope you enjoy the book recommended here. Our goal is to suggest only things we love and think you might, as well. We also like transparency, so, full disclosure: We may collect a share of sales or other compensation if you purchase through the external links on this page.